For a strong and stable base, the base is filled with water or sand. To produce more realistic movement, the unique freestyle punching dummy allows the body to move back and forth slightly when struck.
Almost every size athlete can be accommodated by the ideal 72″ height. For portability, the base is rounded; to move it to a training site, just tilt it and roll it back and forth. With this extraordinary freestyle punching dummy, you will adore the realistic action and special training opportunities. The bag is 72″ tall overall, and the base is 21″ wide by 18″ tall.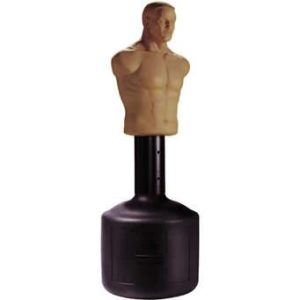 freestyle punching dummy with the life-like upper freestyle punching dummy
Creates a more striking surface for head or body shot training
High-strength plastisol body filled with urethane foam
Polyethylene base holds up to 270 pounds of water or sand
Rolls easily for transport; multiple height settings
Amazing durability and reactivity are provided by expertly molded, super-strength rubberized plastisol filled with urethane foam.
The base can be filled with sand or water to create a strong base.
When struck, the body can move back and forth slightly thanks to the exclusive Flex-Neck, which produces more realistic movement.
The ideal 72″ height is designed to fit practically any size athlete, and the base is rounded for mobility. To move it from one training site to another, just tilt the base.