The BodyFit Weight Bench is a piece of multipurpose exercise gear that provides a full-body workout. The weight bench may be adjusted to fit your fitness level and workout objectives and is made to target numerous muscle groups.
You can execute a variety of exercises to target different muscle groups, including the chest, back, arms, legs, and core, with the included pump set and leg press. This makes it possible to have a well-rounded workout regimen that can assist you in achieving your fitness and physique goals.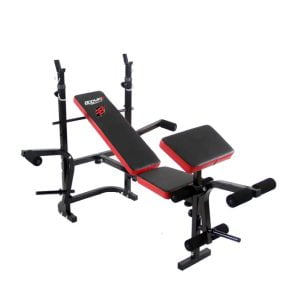 High-quality components assure the BodyFit Weight Bench's longevity and stability throughout workouts. Also, the bench is movable, enabling you to modify the slope and drop to your preferred level of effort.
Regular use of the BodyFit weight bench can have a variety of positive effects on your health, including enhancing your cardiovascular health, growing muscle mass, and burning calories to help you lose weight.
The weight bench can also be folded, which makes it simple to store in small locations and useful for people who have limited workout space. All things considered, the BodyFit Weight Bench is a practical and adaptable piece of exercise gear that may assist you in achieving total body health.