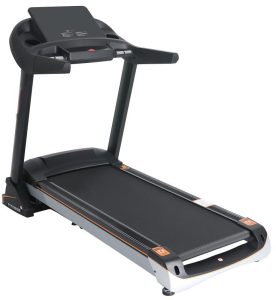 Looking for a top-notch  treadmill to meet the exercise needs of your gym? There is no need to look past the BodyFit 4HP  Treadmill. This treadmill is ideal for all fitness levels because it has a powerful 4hp BF4685 engine, a 15% inclination, and a top speed of 16km/h. It is designed to survive even the most severe workouts, with a maximum user weight of 150kg.
In the comfort of your own home, experience what it's like to train like a professional athlete. The BodyFit Treadmill has plenty of room for running and exercising and has top-notch features that guarantee your best performance and satisfaction while working out. The BodyFit Treadmill is ideal for getting in shape and engaging in one of the most comprehensive sports, whether you are an experienced athlete or just getting started.
BodyFit 4HP  Treadmill
Heavy-duty, -grade 4 HP BF4685 motor.
Incline: For uphill exercise, the incline should not exceed 15%.
Speed: For a demanding workout, run at a full 16 km/h.
150kg is the maximum user weight.
Running surface with a 135 x 45 cm footprint for easy strides.
Running surface with padding acts as a shock absorber to lessen the joint impact.
Display: Big LCD screen that shows time, distance, speed, calories burned, and heart rate in real-time.
12 pre-programmed programs and 3 user-defined programs for a variety of workouts are available.
Heart rate monitoring is possible with a wireless chest strap and built-in sensors.
Foldable construction: Compact construction with hydraulic folding for simple storage
BodyFit 4HP Treadmill health benefits
Frequent usage of the BodyFit 4HP  Treadmill helps enhance cardiovascular health by boosting blood flow and fortifying the heart muscle. By doing so, the risk of heart disease, stroke, and other cardiovascular issues can be decreased.
Weight loss: By increasing metabolism and burning calories, using the BodyFit 4HP  Treadmill frequently can aid with weight loss goals. A calorie deficit and long-term weight loss can result from the high-intensity, calorie-burning activity of treadmill running.
Improved endurance and stamina: Using the BodyFit 4HP  Treadmill while running can increase endurance and stamina by forcing the body to exert itself more. With continued use, the body gets more adept at utilizing oxygen, enabling users to run farther and faster without experiencing as much fatigue.
Exercise, especially using the BodyFit 4HP Treadmill, is a natural stress reliever. By causing the body's natural feel-good hormones, endorphins, to be released, it can aid with anxiety and depression symptoms reduction and mood improvement.
Enhanced bone and joint health: By boosting bone density and fortifying muscles and joints, using the BodyFit 4HP Commercial Treadmill helps enhance bone and joint health. This can enhance overall mobility and flexibility and lower the risk of osteoporosis and arthritis.
The BodyFit Treadmill offers excellent stability even when exercising at a fast pace because of its reinforced structure. Additionally, it has a variety of settings that let users modify the working position to best suit their demands, making it the pinnacle of adaptable exercise equipment. Why then wait? With the help of the BodyFit  Treadmill, get in shape and start reaping the rewards of a healthy lifestyle right away!